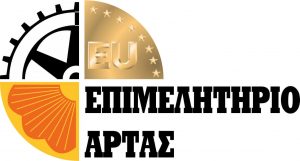 The Chamber of Arta lists approximately 4,100 businesses. Of these, 41% are commercial, 20% are active in the manufacturing sector and the remaining 39% in the provision of services.
It is a consultative and advisory body of the state, it supports entrepreneurs on economic, development and organizational matters and at the same time, it oversees the observance of the Register of Brands, special registers and issues certificates of origin of exported products.
Also, in recent years, it has been developing initiatives and strengthening partnerships by claiming:
National and European funds for infrastructure and training

Programs for business modernization

Financial incentives to support entrepreneurship and attract investment.
It supports research and innovation and collaborates with professional bodies and scientific institutions (Former TEI of Epirus – University of Ioannina) in order to formulate a reliable, effective and realistic plan for viable and sustainable development. It organizes informative events, industry seminars, scientific lectures in order to detect and offer productive answers, effective solutions in favor of the business community.
The main tool of the Arta Chamber is its website: www.e-artas.gr provides complete, timely and reliable information on investment programs, subsidies, seminars, exhibitions, competitions, business news.